As we focus on the dangers of our children carrying too much in their school bags we challenge you to put your brief case, handbag or whatever you carry around day, after day, after day with unnecessary items on a diet. So stop and take a minute to see if you can ditch some stuff or find a more posture safe way of karting it about … how about a little trolley for you heavier items?
Try to ensure that you don't carry more than 10% of your body weight on a regular basis
… Go on weigh your baggage!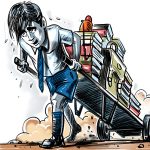 More