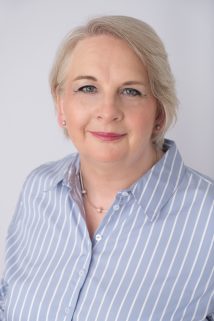 Alexandra Newton, Principal Chiropractor and Managing Director of Beeston Chiropractic Clinic Limited, started her career in Derby where she practiced for three years before setting up her own practice in Beeston with husband Michael (Practice Manager) in 1993. She was born in Derby and grew up in Castle Donington before studying at the Anglo-European College of Chiropractic – Europe's first Chiropractic College. She graduated in 1990.
Since the birth of their three children and grandson, she has had an increasing interest in the treatment and promotion of health in young children, babies and during pregnancy. Her post graduate education is principally aimed at paediatric care, having completed her Masters degree in Advanced Professional Practice in Paediatric Musculo-Skeletal Health in 2014. She enjoys a busy practice with patients of all ages.
She is also a training mentor for the Royal College of Chiropractors which involves her supporting new graduates through their PTR (Post-Registration Training) Programme. PRT helps ensure a smooth transition from the undergraduate setting to autonomous professional practice in the clinical setting and is designed to be helpful and supportive.
Registered Organisations:
General Chiropractic Council Registration number: 00214
Member of the British Chiropractic Association since 1990
Fellow of the Royal College of Chiropractors Specialist Faculty for Pregnancy and Paediatrics 2014
Member of Sacro-Occipital Technique Organisation (SOTO) Europe since 1991
Registered Cranio Fascial Dynamics Practitioner December 2021
Recognised BUPA Specialist since 1995
Other areas of interest include:
Kinesio Taping
Sacro Occipital Technique Advanced Certification 2017
Myofascial dry needling.
Alex has great respect for the community in which she works and is always looking how to give back. For the clinic's 25th anniversary in 2018, she organised fund raising to buy a defibrillator for public use sited on the outside of the building on Queens Road and for the clinic's 30th anniversary in 2023, she raised funds to buy and plant 30 trees in the local recreational ground.
She like to keep on top of practice protocols and procedures and has been meticulous in ensuring that the clinic completes the PPQM (Patient Participation Quality Mark) and CMQM (Clinical Management Quality Mark) awarded by the Royal College of Chiropractors for the last 13 years.
To relax and keep fit Alex loves to cook and is passionate about walking her dog, swimming and pilates.
---
Hours of practice
Monday 11:00 – 20:00
Tuesday 08:00 – 17:00
Thursday 11:00 – 20:00
Friday 08:00 – 17:00
Saturday 08:00 – 12:00 – 1 in 3 – call reception